Real Indo Rockers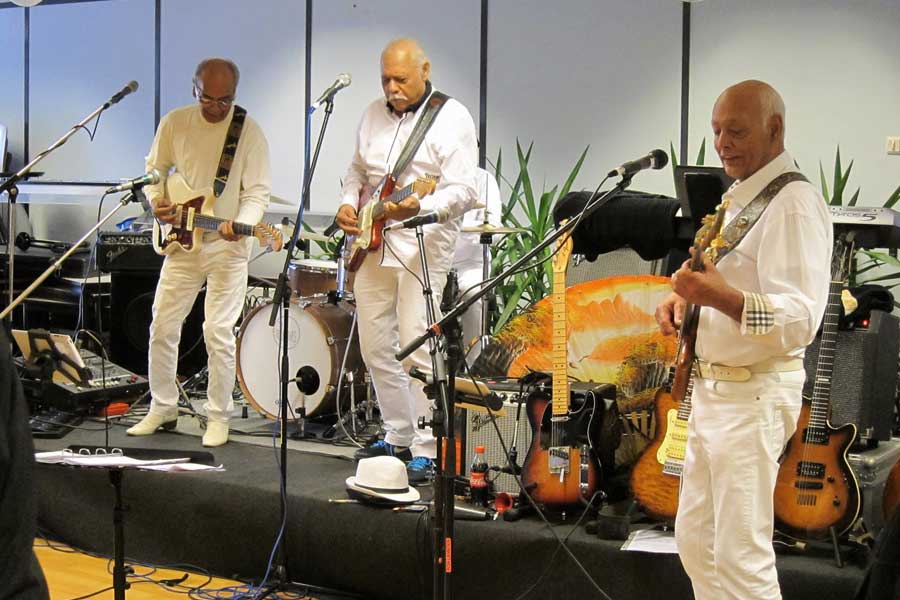 The Hague 2-4-2018
GREAT PERFORMANCES BY THE REAL INDO ROCKERS (featuring the great HANS 'JAVELIN' BAX, who has just turned 81, March 31, EDDY CHATELIN, RON LAMSTER and KENNETH PATRICK JOHN), SBS Kelapa Muda, The Hague, Holland, April 2, 2018! Photo Credit: TEX (The Travelin' Man)
INDOROCK LEGENDS Y'ALL! :-) RIGHT HERE IN THE THE HAGUE! :-)
So great to see and hear them perform, meet EDDY and RON again and also meet HANS, KENNETH and KENNETH's girlfriend ANDREA (thanks for the photography advice and taking a great pic of me and the band :-) ),
These are some of the guys, and unfortunately some of the few left, who were among those who started the whole rock and roll scene over here in Holland BUT..... with a truly unique style of rock and roll, Indorock!
Like in the early days they also played rock and roll classics, Indorock style, this afternoon AND of course many of the great instrumentals they're famous for. Some videos of today's 2 sets coming up!
In June they can be seen in the cinemas over here, in a movie/documentary about their roots and Indorock. James Intveld got filmed and interviewed for this movie/documentary when I saw him at The Saint in Eindhoven, Holland, September 10, 2017.
I know many of the (big) rock and roll festivals are always looking for acts they haven't had on their bill yet and add something special to their festival. Since I'm pretty sure many of these festivals have never had any Indorock bands on their bill these Indorock legends (together with the great Ben Poetiray for instance) would be THE PERFECT choice for such festivals!! No doubt about it whatsoever the fans there would LOVE 'em!